Lab Supplies Laboratory Products Sterile Pipette Tips with Filter 5ul-1250ul Low Retention Disposable PP Micropipette Tips from manufacturer
Pipette Tips are disposable, autoclavable attachments for the uptake and dispensing of liquids using a micropipette. Micropipettes can be used in a number of laboratories, a research/diagnostic lab can use micropipette tips to dispense liquids into a well plate for PCR assays. A microbiology laboratory testing industrial products may also use micropipette tips to dispense its testing products such as paint and caulk. The volume of microliters each tip can hold varies, 0.5-10µL, 2-20µL, 20-200µL, and 200-1000µL (1mL) are the four standard tips. Pipette Tips are made of polypropylene and are clear to allow for easy view of the tips contents. Micropipette tips can be purchased non-sterile or sterile both of which should be DNase, RNase, DNA, and pyrogen free this is especially important for molecular assays.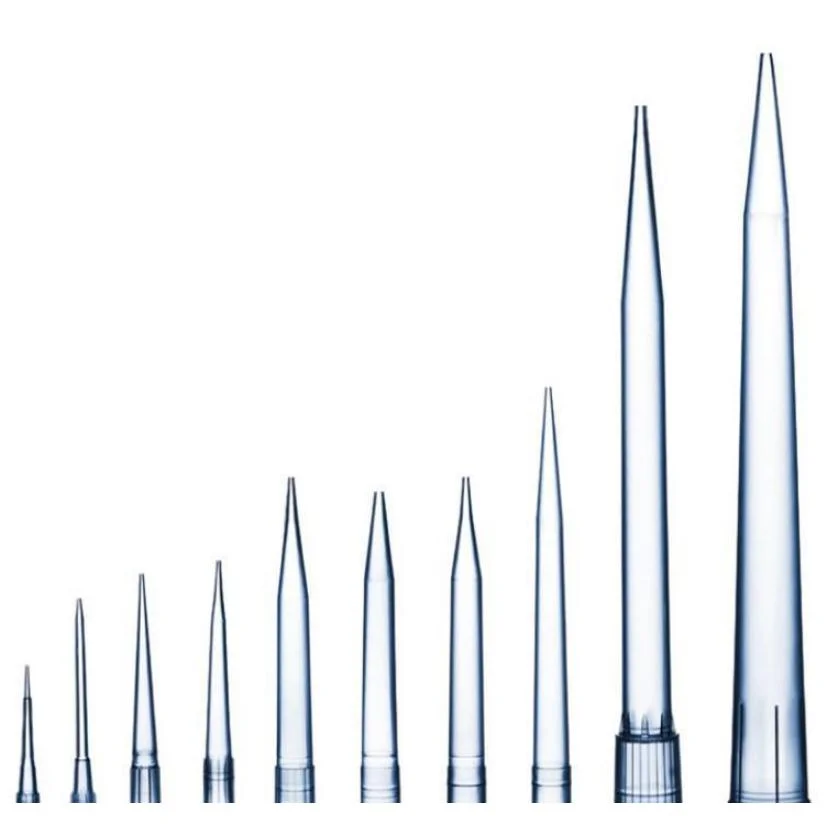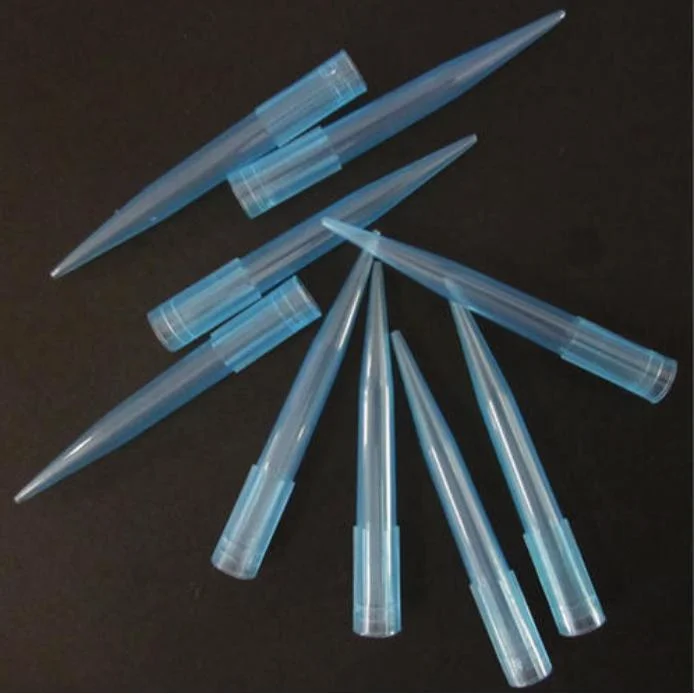 Runmei Superior pipette tips cover a range between 50 µL and 1000 µL. Optimal tightness fitting on pipettes and broad compatibility with other brands. All models autoclavable. Available in bags, racks, sterile and sterile racks.

Regular tips : Common use in daily pipetting and other pipette brands.

Extended tips : easy access into narrow, deep tubes while limiting contact with tube wall.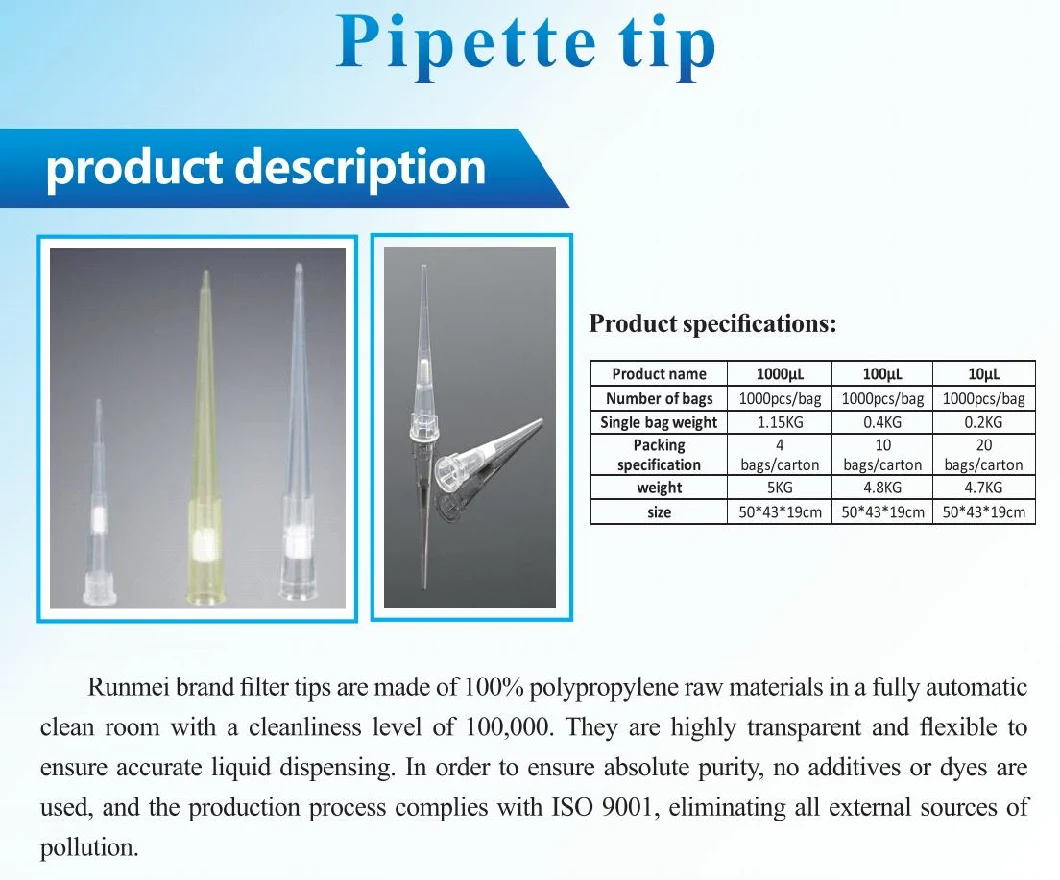 | | | | |
| --- | --- | --- | --- |
| Product name | 1000ul | 100ul | 10ul |
| Pipette tips per bag(pcs) | 1000 | 1000 | 1000 |
| Weight per bag(kg) | 1.15 | 0.4 | 0.2 |
| Bags per carton | 4 | 10 | 20 |
| weight | 5 | 4.8 | 4.7 |
| Size(cm) | 50*43*19 | 50*43*19 | 50*43*19 |
Company Profile:
Hunan Runmei Gene Technology Co., Ltd is a high-tech enterprise dedicated to thedevelopment of the gene detection products and the construction of big data service platforms led by a team of doctors at home and abroad. Our company's strategic goal is
to base on China and radiate the world, and to solve the pain points and difficulties of the industry and create value for human beings as our corporate purpose. At present, our company has completed the construction of product systems for pathogen biology fluoresence quantitative PCR detection kits, pathogen biology ELISA detection kits and pathogen biology immune colloidal gold detection kits,and disposable syringes.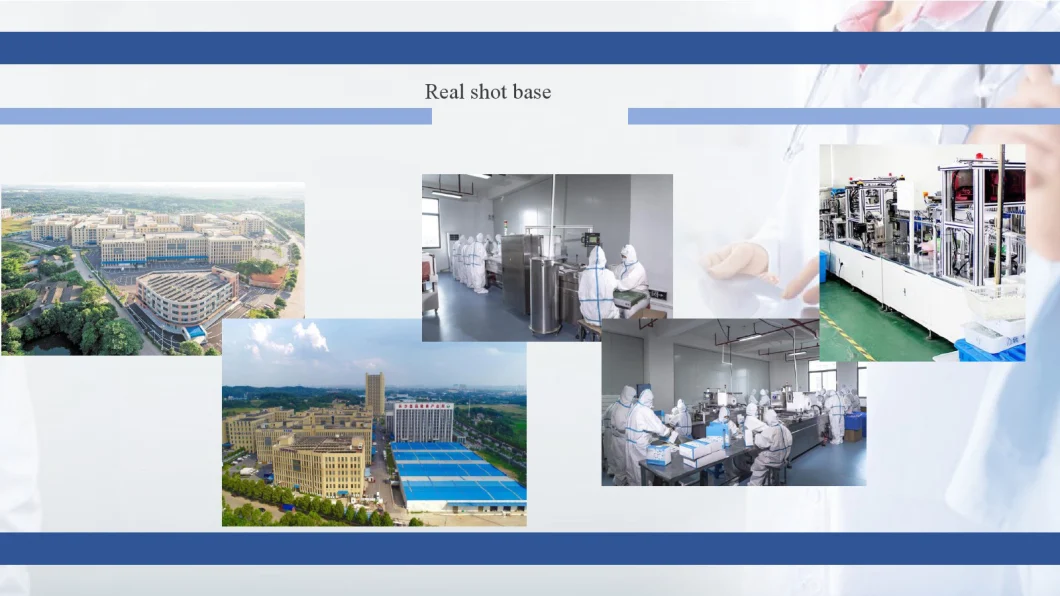 Our Team: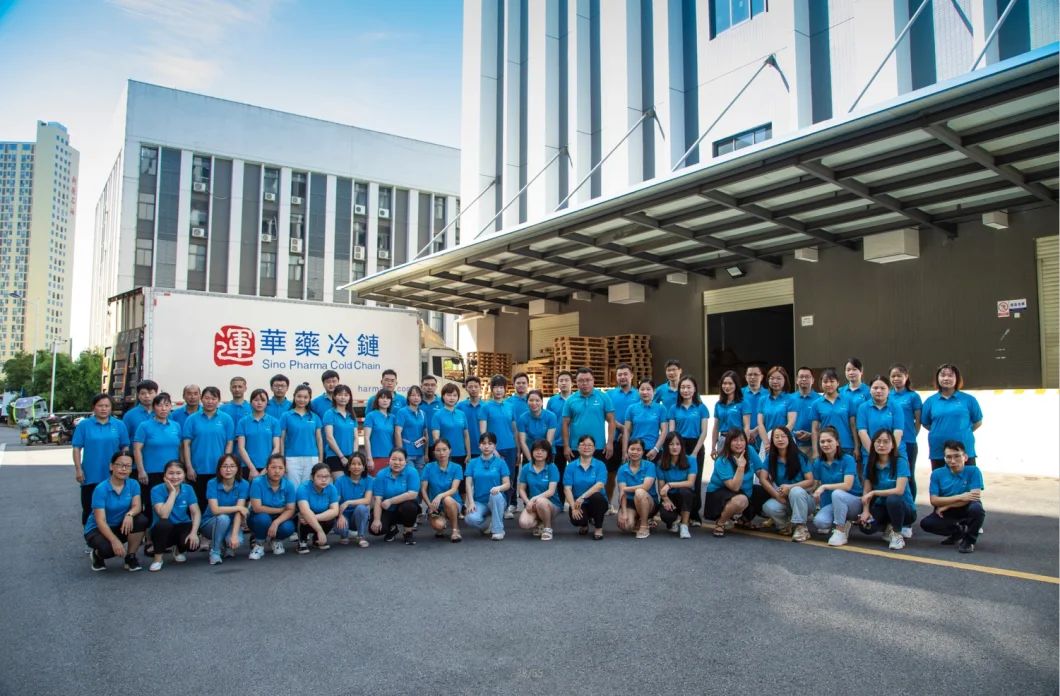 Certification: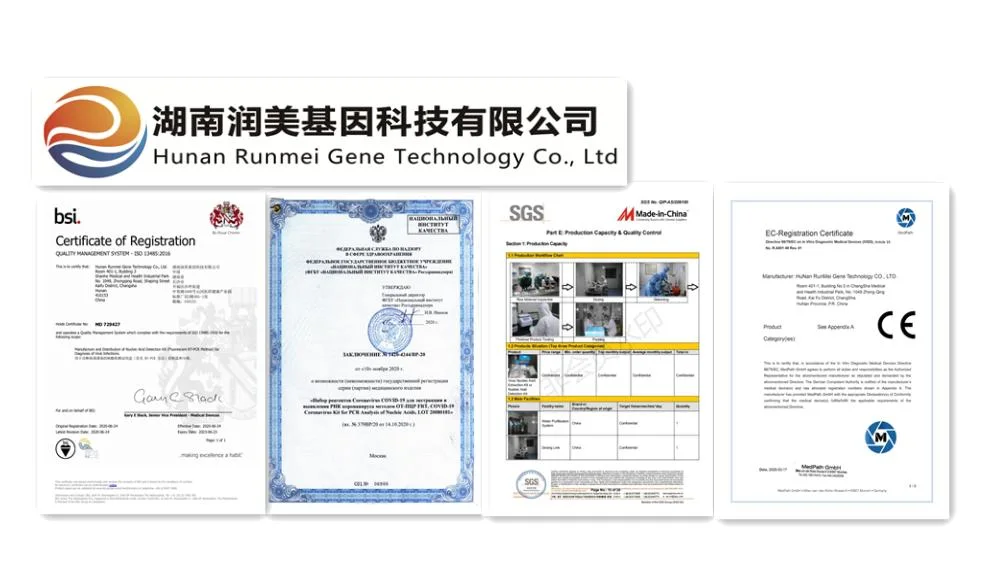 Thank you for our Canadian customer's 5 Stars review: